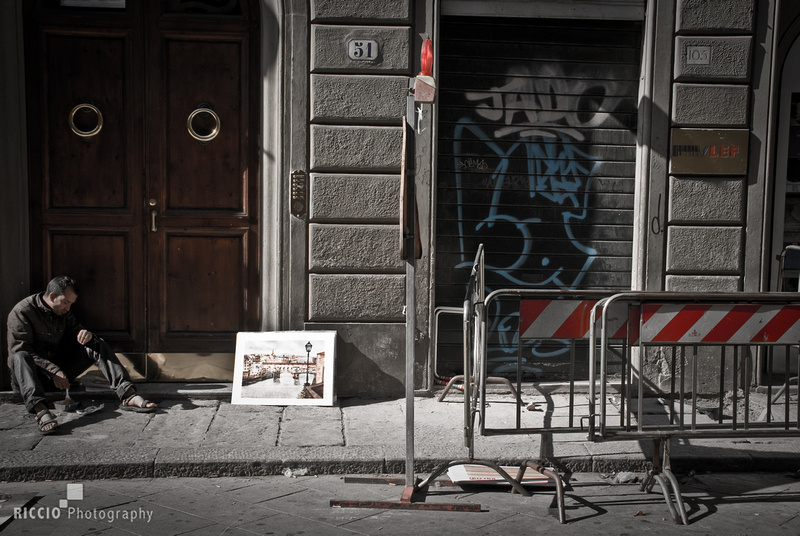 In the spectrum of the human condition, alienation and loneliness are a theme I am very interested in, and try often to illustrate.

When the above scene presented itself to me while walking through Florence, I immediately recognized the rich potential. It was like staring at a painting. All I had to do was to compose properly and shoot. The lighting was just right: Stark, directional afternoon light with long shadows. Instinctively I pushed the street vendor to the corner of the frame. The pose he had was perfect, looking down rather demoralized and looking away from the crowds. Yes, this scene of alienation occurred in a rather crowded street! I gave the metal barriers a large role in the composition because that's the real subject in mind. The obstacles to survival for an immigrant, in this case a middle-eastern man in Italy. Even the graffiti adds meaning. For me it speaks of the challenges with communication in a foreign land. Finally the central point, the painting, depicting an idealized view, stark and bright in the overall darkness of the composition.

This explanation lays out what basically happened instantaneously in my mind a millisecond before I clicked the shutter. But this is what happens after years and years of practicing making art. Eventually we understand what we want to say and we spend the rest of our lives looking for it's manifestations around us. When we see it, we instinctually recognize it.

Being in the right place at the right time doesn't necessarily involve luck. It requires us figuring out how and when to put ourself in the right place.