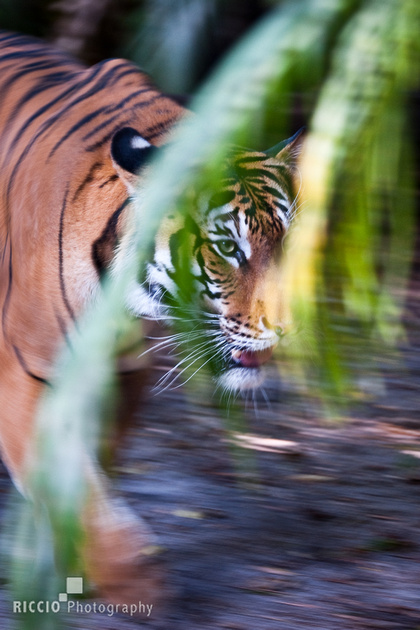 Often "real" wildlife photographers look at images of zoo animals with disdain. While I understand their pride for the effort and risks they take to capture wildlife in their natural habitat, I would argue that animals in captivity represent an entirely different reality that is still worthwhile documenting. Few of us are in the position to be able to purse animal photography in nature, since the costs involved for both travel and equipment are prohibitive. Those of us who love animals and still want to portray the world's beautiful exotic creatures have to embrace any opportunities that are available.

Animals in captivity represent a big challenge to photograph, since this is a photographic genre that is fraught with clichés. What it often lacking from zoo photography is a dynamic, lively quality. Yes, zoo animals tend to sit around a lot. But this not much different if you observe them in their wild state. If you go on safari in Africa you will see lions lounging around during the day. Unless you can arrange for an excursion at night, you will probably not see much action.

I would have to write a very long article to describe all the tricks I employ to obtain interesting images at a zoo, but here are a couple of obvious ones: Unless central to telling the story about the particular animal, I try to eliminate any part of the cage or enclosure. The most important tip I would give is to avoid mid day. The light is terrible and animals move around the least. Go early, stay late.

What I did in the image above was to emphasize the rapid movement of the tiger with a slow exposure, while at the same time keeping the eye in focus with panning. Having blurred vegetation in front gives the animal a sense of stealth and secrecy with makes this shot more exciting and real. When you see this image you don't think zoo immediately.

Taking the shot above won't get me a job at National Geographic, nor was it as exciting as traveling to India would be, but for a saturday afternoon and the modest investment of $20, this was great fun. Happy shooting!

The series Tiger motion showcases a variety of approaches I used to "transport" the tiger away from the zoo.